October 3, 2010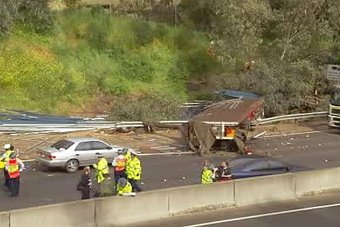 A man at a bus stop was killed when he was hit by a semi-trailer careering out of control in peak hour on an Adelaide freeway this morning.
Witnesses described the smell of hot brakes as the runaway semi hurtled down the main freeway at Glen Osmond in the Adelaide Hills.
The truck swerved, clipping cars and hitting a man changing a tyre by the roadside, before it hit the bus stop.
It killed a truck driver, 42, from Pooraka, who had been waiting at the bus stop for help to arrive after his car carrier broke down.
The car driver who was hit while changing his tyre has been rushed to hospital with severe leg injuries.
Witness Natalia Bodycote helped the injured man.
"There was a gentleman changing a tyre, his girlfriend's tyre, and I saw him on the ground, so I had an oxygen tank in the car so I just grabbed that and put that on him straight away," she said.
The driver of the runaway semi has also been taken to hospital. He is in a serious but stable condition with severe injuries.
Police said it might be days before they can interview him about the accident.
Marie McBeath was a passenger in a car which was passed by the out-of-control semi.
"The next minute it was there. Oh my god, it's a truck full speed down the hill, it's lost its brakes," she said.
"[There was] the stench of the smoke and all that. The next minute I waited and the huge plumes of smoke and the noise was just sickening, absolutely sickening, and the carnage was just something I won't forget."
The chaos forced a closure of the South-Eastern Freeway for city-bound traffic.
Drivers telephoned the ABC to tell of the huge bank-up of vehicles.
Eyewitnesses reported there were other people lying on the ground and being helped by passers-by.
Susan Harrington told of what she saw.
"As I drove past I could see at least three or four people lying on the ground being treated just by other motorists," she said.
"At that stage there was only one police patrol there and an ambulance making its way down the freeway."
Drivers along Portrush Road also reported traffic chaos in that area, further north of the accident scene.