August 19, 2014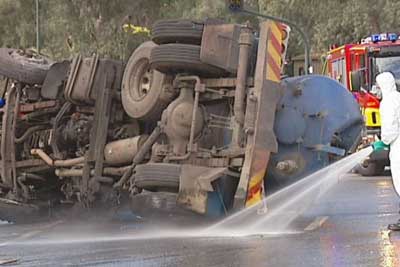 A 56-year-old man from Hallett Cove has died after a truck crash at the start of the South Eastern Freeway in Adelaide, which trapped people in their vehicles and left three people injured.
The man was one of several drivers waiting at the intersection of Glen Osmond Road and Cross Road when a truck driver attempted to turn left off the freeway and instead veered across the road, crashing into the cars.
Police are investigating whether brake failure led to the crash, which happened at about 1:15pm and required three people to be removed from three different cars.
The truck was carrying effluent, which has reportedly spilled from the scene and could have entered nearby water courses.
Paul Fletcher from the Metropolitan Fire Service (MFS) said a major operation was required to free people from their vehicles.
"Most of those were complex extrications and required multiple crews from the MFS and CFS (Country Fire Service) and assistance from the paramedics and SA police, so it was one of the more complex rescues that we've ever come across," he said.
Police said the truck driver, a 28-year-old man from Netley, and two other female drivers, a 41-year-old from Ingle Farm and a 49-year-old from Hahndorf, remained in a critical condition.
Bystander Saskia Gurney was at the scene just after the crash.
"Everyone was running over the cars to help a lady out of a four-wheel drive that got hit against the wall," she said.
"There was a truck and people everywhere trying to help people out of the cars.
"There was a car against the wall and another one over the fence."
The truck was owned by Queensland-based waste management company, Transpacific, which expressed its "sympathies and condolences" for the family and friends of the deceased.
"The South Australian Police are currently investigating the circumstances of this incident and Transpacific is fully cooperating with their investigations," a spokesperson said in a statement.
"The driver of our truck sustained non-life threatening injuries in the accident and is currently in hospital undergoing treatment."
Major traffic delays were in place while emergency services worked on-site.
State Road Safety Minister Tony Piccolo said it was too early to speculate about the causes behind the accident, but the Government would review all aspects of the incident "when they came to light".