By Andrew Hough, The Advertiser | August 6, 2017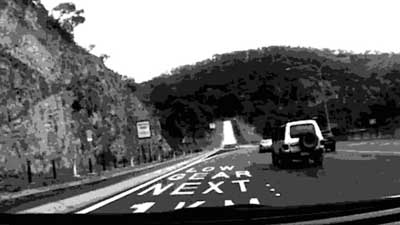 A TRUCK driver has been fined for breaking driving laws after disaster was narrowly averted on the South-Eastern Freeway through the Adelaide Hills.
Traffic police spotted the B-double truck travelling down the freeway at the tollgate with smoky brakes just before 7pm on Saturday.
The truck was stopped at the Portrush Rd intersection, where police discovered the brake temperatures were between 210C to 270C.
The truck, and both trailers, were defected and the trucking company is now under investigation "regarding the maintenance of the vehicle".
The Queensland driver, 21, was fined for disobeying the use of low-gear sign and breach of load restraint. No further details were released by police.
It is among several incidents on the busy road and comes amid a driving crackdown along the freeway, which at least 640,000 truck drivers travel along a year.
Under new state laws, truck drivers will face jail and companies huge new fines for dangerous driving.
On Sunday police revealed details about the "close call", warning that truck drivers "must control their speed using gears only on the freeway".
"The presence of major or minor defects in any vehicle increases the risk of causing a crash," a spokesman said.
"Vehicles that have not been properly maintained are known to have been responsible for a number serious crashes.
"This serves as a timely reminder to not only truck drivers but all vehicle users to ensure that their vehicle is roadworthy and their tyres and brakes are in good condition."
New State Government reforms will create far tougher penalties for truck drivers who speed and don't use a low gear on the downtrack and for companies who protect bad drivers.
Drivers will lose their licences and face tougher penalties, including jail, under the proposed legislation to go before Parliament later.
The new penalties would apply only to heavy vehicles on the freeway downtrack between Crafers and the Tollgate, a steep section notorious for trucks losing their brakes.
SA Road Transport Association Steve Shearer has backed the proposed changes as anyone speeding down the freeway was either guilty of "incompetence or stupidity".
He said a "tiny minority" were still breaking the law along the road.
"People need to get real and stop doing it," he said.
Several shocking truck crashes have occurred on the freeway in the past few years, including a horrific double-fatal in August 2014.
That crash involved an out-of-control sewage truck, which smashed into cars waiting at the traffic lights at the end of the freeway at Glen Osmond, killing Tom Spiess, 56, and Jacqui Byrne, 41.
Last week police dropped charges against truck owner Cleanaway after it successfully argued it had no knowledge its brakes were faulty.